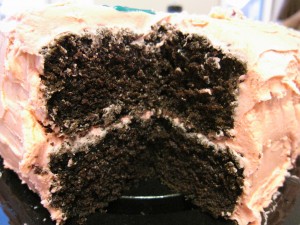 INGREDIENTS:
1/2 Cup butter
2 Cups white sugar
4 Eggs
1/2 Cup milk
2 Cups Celimix White Bread Mix flour
1 Cup cooked lentils * (need 1 3/4 Cups water)
2 1/2 Tsp baking soda
1 1/2 Tsp baking powder
6 Tbsp cocoa
1 1/2 Cups hot water
1 Tsp vanilla
Pinch of salt
DIRECTIONS:
Cook lentils in 1 3/4 Cups water in small saucepan on low-medium heat for approx. 25 minutes.  Stir often – do not allow lentils to burn.  Once water is absorbed remove from heat.  Puree lentils until smooth (may have to add a bit of water when pureeing).
Cream butter & sugar.  Add eggs.  Dissolve baking soda in teaspoon of hot water.   Add to mixture.  Add Celimix, lentils, baking powder, salt, vanilla & milk.  Mix cocoa in hot water.  Add to mix.  Pour into greased 9×13 pan or two 8×8 pans.
Bake at 350F for 40-45 minutes.
*1/2 Cup dry lentils = 1 Cup cooked lentils
ALLERGEN INFORMATION: Gluten Free, Yeast Free