INGREDIENTS: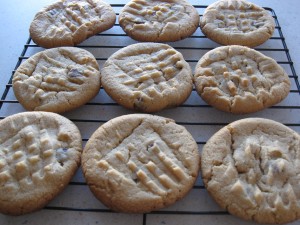 1/2 Cup + 3 Tbsp shortening (or soft butter)
1/2 Cup peanut butter
1/2 Cup sugar
1/2 Cup brown sugar (packed)
1 Egg
1 1/4 Cups GF flour
1/2 Tsp baking powder
3/4 Tsp baking soda
1/4 Tsp xanthan gum
1/4 Tsp salt
1/2 Cup chocolate chips (optional)
DIRECTIONS:
Mix together shortening, peanut butter, sugars and egg.  In separate bowl, mix flour, baking powder, baking soda, xanthan gum and salt.  Add dry ingredients to sugar mixture.  Mix well.  Add chocolate chips (optional).
Cover and chill dough for one hour.  Scoop dough by teaspoonful, roll into the size of a large walnut and place on lightly greased cookie sheet.  Flatten with fork criss cross.  Bake 10-12 minutes at 375F (until cookies are set, but not hard).
ALLERGEN INFORMATION: Casein Free, Gluten Free, Lactose Free, Yeast Free