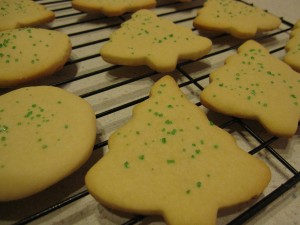 INGREDIENTS:
1 Cup + 3 Tbsp Salted butter, softened
1/2 Cup Icing sugar
2 Cups Gluten Free flour
1/2 Tsp Xanthan gum
1/2 Tsp Vanilla
1/2 Tsp Baking powder
DIRECTIONS:
Cream butter; beat in icing sugar.  Sift remaining dry ingredients and add to butter mixture.  Add vanilla.  Mix together.  Cover in saran wrap and chill for 1 – 2 hours.
Remove dough from refrigerator and separate dough into four equal sized portions (note dough will be very soft).  Roll dough out to 1/4 " thickness on lightly floured surface.  Use desired cookie cutters and carefully place on ungreased cookie sheets.  Bake at 350C for 10-12 minutes (or until edges are golden).
ALLERGEN INFORMATION: Gluten Free, Yeast Free
*This recipe has rave reviews by family and friends!  It tastes, smells and looks like the traditional Scottish Shortbread.  It's good enough to serve to those who can have gluten because they will never know the difference!