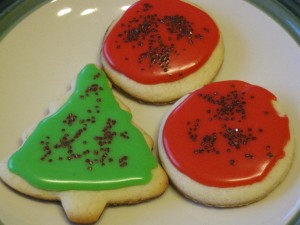 INGREDIENTS:
3/4 Cups butter, softened
1 Cup White Sugar
2 Eggs
3/4 Tsp Vanilla
2  1/2 Cups Gluten Free flour
1 Tsp Xanthan gum
1 Tsp Baking powder
1 Tsp salt
DIRECTIONS:
In a large bowl, cream together the butter and sugar until smooth.  Add eggs and vanilla.
In separate bowl, thoroughly mix the flour, xanthum gum, baking powder and salt.  Slowly add the flour to the butter mixture.  Shape the dough into a ball and cover with saran wrap.  Chill for an hour or more (the longer the better).
Roll the dough out to 1/4″ thickness on a lightly floured surface.  Use cookie cutters to shape cookies as desired.  Place cookies on ungreased cookie sheet.  Bake at 400F for 6-7 minutes (until edges are slightly golden).
Frost cookies once completely cooled.
ALLERGEN INFORMATION: Gluten Free, Yeast Free