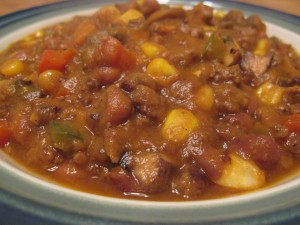 INGREDIENTS:
2 lbs Ground beef
1  14.5 oz Can crushed tomatoes
1 Cup corn (frozen or canned)
1/2 Cup mushrooms, chopped
1/2 Cup Red or Green peppers, chopped
1 Medium onion, diced
2 Cloves garlic, minced
1 Can Pinto beans, drained & rinsed
2 Tbsp chili powder
1 Tbs cumin
1/2 Tsp crushed red pepper
1 Tsp oregano
1 Tsp sugar
1/2 Tsp pepper
DIRECTIONS:
Brown the ground beef.  Add the onions, garlic.  Pour beef mixture into slow cooker.  Add the remaining ingredients.  Stir together.  Cover and allow to cook on low for 3-4 hours.
Serve with cornbread, buns or rice.
ALLERGEN INFORMATION: Casein Free, Egg Free, Lactose Free, Gluten Free