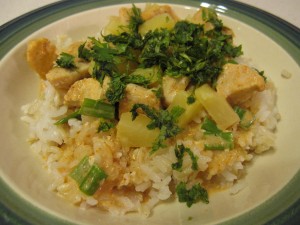 INGREDIENTS:
1 Tbsp oil
2 Chicken breasts, cubed
1  inch piece of ginger, grated (or 1/4 Tsp ginger)
1 Can Coconut milk (shake can well before opening)
2 Tbsp Red Curry paste (use more if you like it spicy)
2 Green onions, chopped
1  10 oz. Can Pineapple Tidbits
1/2 Cup cilantro, finely chopped
Salt & Pepper to taste
DIRECTIONS:
Heat oil in frying pan – over medium/low heat, cook chicken, stirring often.  Season lightly with salt and pepper.  When chicken is no longer pink, reduce heat to low and ginger.  Cook for one minute.  Add coconut milk and red curry paste.  Stir until curry paste is dissolved.  Increase heat to medium and simmer for 2 minutes, but do not boil.  Add green onions, pineapple and cilantro.  Serve over rice.
ALLERGEN INFORMATION: Casein Free, Egg Free, Lactose Free, Gluten Free