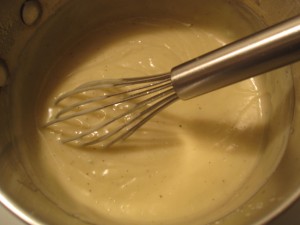 INGREDIENTS:
2 Tbsp cornstarch
1 Cup milk [OR Almond milk – just add 1 extra tsp of bouillon]*
1 Tbsp butter [OR Earth Balance]*
1 Tsp G. F. Beef or Chicken bouillon (depends which flavor is required)
Salt & Pepper to taste
DIRECTIONS:
Whisk together cornstarch and milk in small saucepan.  Add butter.  Mix in the beef/chicken bouillon and bring to a boil. Stir constantly.   Simmer on low for 3-5 minutes.  Will thicken very well.
NOTE: This recipe makes ONE cup of condensed cream soup – equivalent to one can of condensed soup.
ALLERGEN INFORMATION: Egg Free, Gluten Free, Yeast Fee
*This recipe can be adapted to be Casein & Lactose Free by substituting with Earth Balance and Almond Milk.