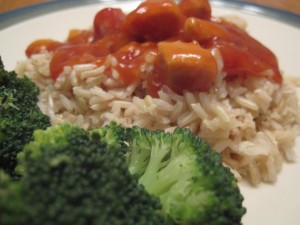 INGREDIENTS:
1/4 Cup brown sugar
2 Tbsp vinegar
1/2 Cup ketchup
1/4 Cup water
2 Chicken breasts, cubed
2 Tbsp cornstarch
1/2 Cup water
DIRECTIONS:
Mix brown sugar, vinegar, ketchup, 1/4 cup water together in large saucepan OR roaster.  Bring to mild boil and add cubed (raw) chicken.
Mix cornstarch and 1/2 cup water together.  Once sauce mixture comes to boil, add cornstarch mixture.  Allow sauce to thicken (approx. 10 minutes).
Place mixture in casserole dish (or keep in roaster) and cook at 350F for one hour.  Remove lid for last 20 minutes.  Serve with rice.
*Can double the sauce mixture if you prefer generous amounts of sauce.
ALLERGEN INFORMATION: Egg Free, Casein Free, Gluten Free, Lactose Free