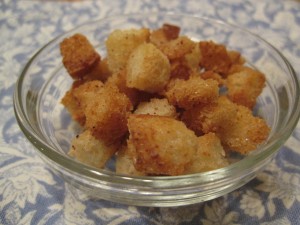 INGREDIENTS:
2 Slices of GF bread
2-3 Tbsp butter/margarine
Dash Garlic
Dash Onion Powder
DIRECTIONS:
Take the two slices of bread and butter both sides of bread.  Sprinkle onion powder and garlic powder on both sides of bread.  Slice bread into cubes.
Melt remaining butter in small frying pan on medium-low heat.  Place bread cubes in frying pan.  Mix thoroughly to ensure bread is covered on all sides.  Remove bread from frying pan and place on small cookie sheet.  Place cookie sheet in oven and broil for 2-3 minutes on each side.  Watch carefully so that bread does not burn.  Serve with salad.
ALLERGEN INFORMATION: Egg Free, Gluten Free