INGREDIENTS: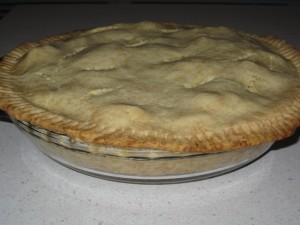 1 Cup Condensed Cream of Chicken Soup Substitute
2 Cups Cooked Chicken , cubed
2-3 Cups frozen vegetable mixture, thawed
1 Med. potato, cooked & diced
1  9″ Gluten free Pastry shell *
DIRECTIONS:
Prepare condensed soup accordingly.  Mix together soup, cooked chicken & potato.  Spread into empty pie plate (or pie crust – depending on whether you use one or two pie shells for this recipe).
Top with pastry shell and press pastry against rim of pie plate (or pie crust).  Prick crust to allow steam to escape.
Bake in oven at 400F or until pastry is deep golden brown – about 20-25 minutes.
*Remember when rolling out the pastry dough, be sure to use 2 layers of plastic wrap.  Place the dough between the layers and roll out carefully.  Remove the wrap once the dough is positioned properly.
ALLERGEN INFORMATION: Gluten Free, Yeast Free